(1) an excerpt from the original document addressing the laying out of land for the Oxford County Buildings in Paris, ME. in 1805. A complete copy is on file at Hamlin Memorial Library & Museum; the original is on file at the Oxford County Court House in South Paris;
(insert "Original 1805 Prison in Paris" from cd)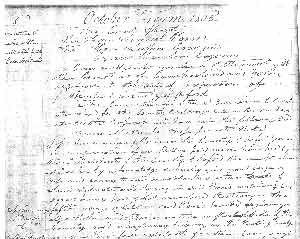 and (2) a selection of excerpts from the complete transcription of the document, on file at Hamlin Memorial.
October Term 1805
The Court appoint
The Hon. Samuel Parris
The Hon. Luther Cary
Cyrus Hamlin Esquires:
A Committee to make Settlement with the Counties of Cumberland and York agreeable to the act of incorporation of the said County of Oxford
The Committee appointed at June Term to layout the land for the County Buildings to be created or have attended that business and have said the following Deed
Know all Men by those present that I Jefre Cummings of Oxford yeoman in consideration of one Dollar paid me in hand paid by the inhabitants of the County of Oxford the new lot where of I do hereby acknowledge do hereby give grant bargain sell and convey to said Inhabitants a certain piece of Land Situate and lying in said Paris….
….The Court appoint
David Leonard
Daniel Stowell and
Levi Hubbard Esquires a
committee to provide materials and to build the
County Goal and Goal House
…. to be made of hand hewed timbre twelve inches square and iron bolts extending through the same eight inches distance for the Close rooms Iron grates for Windows Sealed with oak frames three inches thick specified on plans for floors and doors. The Goal House thirty six feet by twenty feet according to the plan - the expense we estimate at two thousand dollars respectfully submitted -
Attest Cyrus Hamlin, clerk